This semester has gotten off to a rough start; let's begin there. For the last year, maybe, I have been trying to work through a severe fatigue preventing me from being as productive as I would like to be, as well as really wondering whether this is a life that I am cut out for. Matter of fact, I wanted to completely quit my program at the end of the spring. My mother, of course, said, "No you've come too far for that." She was right and I knew that I would not accept defeat like that. I have way too much pride for that.
The sad truth is that half way through this program I have been kind of losing myself. I have lost my drive to do the work and have come to the point where I am truly beat down by the space that I am in. It got to the point at the end of the last week where I was literally at my wits end crying on the phone to my best friend while driving to meet another friend of mine more drinks. I had sunk into a familiarly, yet no less painful, loneliness and confusion. I was feeling like I was not prepared at all for the work that I called myself doing and quite inadequate. My actual thought was, "I don't think I am as smart as people have been telling me that I am."  As I felt myself falling I frantically looked for someone to talk to but also decided I needed to reach out to my one of my mentors as well as my therapist.
My mentor, who I met when she was a post doc at my alma mater in my junior year, is someone that I highly respect but also one of the professors that have always supported my academic pursuits. She's the one that initially convinced me that I could really be a writer. One of the things that I love and appreciate most, besides general intellectual badassness and lack of general fucks, is that she keeps it all the way real with everyone. Talking to her today went a long way to complete a sort of rebuilding that many conversations over the last few days have done to restore my confidence that I am actually where I need to be. Because she is someone that I know personally that has been in a similar academic space, she offered a valuable perspective for how I should be moving to survive this process. In her unapologetically brash way she told me that what I am experiencing is indeed some bullshit but that I have to ignore what's going on around me and do me; stay in my lane, which I know.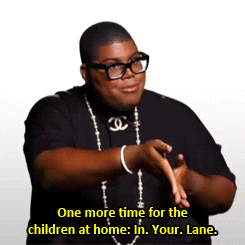 As someone who knows me both academically and personally her affirmation and encouragement was that last push I needed to renew my confidence.
One of the things that this conversation yielded was advice and much needed laughs but also got me settled that I needed to channel Kanye West as my spirit animal. Everyone hates Kanye but at some level respect his confidence. I know I do, and much of his musical catalog. Not all, much. In channeling the spirit of Kanye, I am working on just being more comfortable in my academic skin. My mentor reminded me that at this point I am a scholar, contrary to my adviser's opinion of students, and that I actually have interests and questions that are valuable additions to the conversations that are being had in my field. What I am taking from Kanye is not only being unapologetic about doing me, but doing as a scholar with the same attitude I have toward living my life as I see fit.
This sort of truth telling is not only therapeutic but also seriously difficult because no one really talks about the mental and emotional strain of being in a PhD program. The only people that know my experience thus far are those closest to me, and my therapist. Writing has been an outlet for me to work through my thoughts since I was 13 and I have been sporadic about the creative writing that helps to keep me together. So here I am taking the charge from my mentor and carving out space for my shit. I'm channeling Kanye as my new spirit animal to find a sort of arrogant confidence for the sake of using my voice. It is funny that I lack the fucks about other's opinions about me as a person, but when it comes to my writing and my thoughts, particularly as a scholar, I am totally apprehensive about what others will think and say. So I do all of this, still kind of afraid of what will happen, but I'm going to write on and get over myself.