Location: Las Vegas, NV
It all started with a bribe. If you watched my first Las Vegas vlog (or check it HERE) then you know about my experience with time-share tours. One of the incentives that the man and I received was a 3-day, 2 night stay in Vegas. We had to use it within 15 months of when receiving the voucher. We stayed from Wednesday to Saturday. Our last stay in Vegas was at the Luxor, which I really liked. There were things that I enjoyed about the Excalibur and others that left me a bit underwhelmed. It is worth mentioning that you will be constantly harassed by people offering your show tickets and such for time-share tours…
Price and Location: The Excalibur is at the northern end of the Las Vegas Strip. It is between the Luxor and New York, New York. What I like most about the location is that it is at the edge of the strip, making it easier to get a Lyft or Uber. Getting dropped of farther into the strip will get you caught in traffic. EVERY. TIME. Especially in the evening.
The Excalibur is one of the more affordable hotels on the strip. You can get a room for as little as $49 a night. The weekend rates can be expensive. A Friday night was $178. Normally that would be a no for ya girl but because I was only paying for one night I didn't mind as much. Be mindful that when you check into hotels in Las Vegas you will be paying a daily resort fee of about $30. Overall you can easily do 4 days and 3 nights for under $300. This is even more appealing if you split the cost of the room.
The Rooms: There are many types of rooms at the Excalibur. There are rooms in the Resort Tower and the Royal tower. You have a choice of two queen beds or a king bed, strip view, luxury suites, etc. Of course you know these all come at a price. You can also get a "run of house" room, which is usually cheapest, and you just get whatever is available. Because I am a budget traveler I don't usually mind "run of house" rooms. The people at check-in will offer you a renovated room for $10 more a night. That is an option if you would like.
We got a double queen room, which was very nice. The room was very clean with a large window that let in a great amount of light. Downside: It had to be the wackest view ever. There was a partial view of the MGM Grand hotel but mostly a 180 degree view of other tower rooms. You get what you pay for though. One of the beds was softer and the other was firmer. I slept in the softer bed and it was amazing; I slept really well. The rooms have a safe but no microwave or refrigerator so you cannot really keep leftovers. The bathroom was a nice size and had a very large counter. I appreciated that. There was a standing shower that had a sliding frosted glass door. It was admittedly a bit dated. All in all, I enjoyed the room. The website pictures accurately depict the rooms, so check the website out.
Amenities: The gem of the Excalibur is that there is a food court that is located up the stairs in the hotel. There are affordable options like Popeye's, Breakfast and Burgers, Hot Dog on a Stick, etc. We ate at Pick Up Stix, an Asian restaurant, and I was able to get a veggie plate (steamed veggies, chow mein, and spring rolls) for under $10. There is a buffet that I have heard great things about but did not get to go to, Buca De Beppo, and the Camelot Steakhouse. We did have dinner at the Camelot, which is supposed to be the high-end restaurant (You need a reservation). It is EX. SPEN. SIVE. We are talking $20 or more for a plate.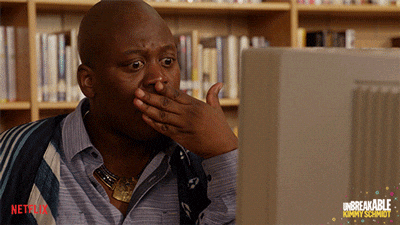 The ambiance and staff were nice. It was dimly lit and contained a full bar. I had the salmon and polenta with mushrooms. It was very well cooked but so bland. It was horribly tasteless. Then it upset my stomach. So that was a no for me sis. Go somewhere else.
There is a pool that is open from 10:00am-4:00pm because the sun starts setting around 4:30 and it cools down outside. I did not go to the pool but it looked really nice. I did work out in the fitness room and loved it. There were plenty of cardio machines, free weights, medicine balls, and weight machines. Around 8:00am it got a little crowded but at 7:00am it was nice and empty. There are plenty of clean towels and even small water bottles, which was nice. There is also a spa where you can pay for a massage, facial, or body scrub. You also have the option of paying $10 for the day to have access to the steam room, sauna, and Jacuzzi. Not a bad set up. I would have loved to have taken advantage of it had time permitted. There is also an arcade downstairs from the lobby/casino with a Dairy Queen; a great option if you have kiddos or are a big kid yourself. You can play games for tickets for prizes or do a little Dance Dance Revolution.
Would I stay at the Excalibur again? I  would. It was a pretty good value, the rooms were very clean, the staff was nice and accomodating, and the location was amazing in my opinion. Check out the Excalibur at: https://www.excalibur.com/
Overall:
Pros: Generally well priced, great gym, nice rooms
Cons: Camelot Steakhouse, no refrigerator or microwave, wack view
Rating: *** 1/2